---
Max
Amigo (Max) ISDS 285416
born: 5.8.2006
PRA/CEA: normal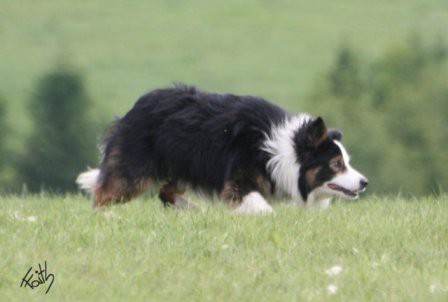 Dam Ginger Sire Cak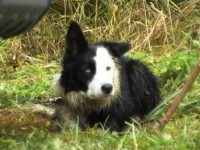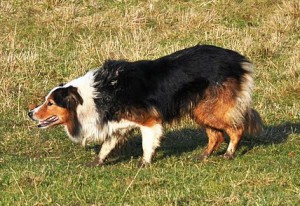 Max is our first border collie. We have had him from a puppy and we learned to work the sheep together. Our lack of information and experience had a negative influence on Max therefore he doesn´t finish outruns properly. His flanks are also not perfect. Unfortunately Max is not very confident dog (with a sheep).

Max is hard to manage and has a very very very "strong eye". However, Max's strength is "driving" and the ability to adapt to new things.

These days Max trials, but as a very young dog he have had an experience of working on a farm with cattle, which has boosted his low self-esteem. With this experience, we know now, that it is inappropriate to rush a dog and force it to perform tasks that the dog is not ready for.
Trial results
| | | | | |
| --- | --- | --- | --- | --- |
| 2011 | Name of a trial | Location | Place | Judge |
| T3 | Qualifying trial | Muhlkreis, A | ? | Bobby Dalziel |
| T3 | Qualifying trial | Koclířov, CZ | 7 | Kathrin Gleis |
| T3 | Czech Championship (KPOP) | Koclířov, CZ | 7 | Kathrin Gleis |
| T3 | Czech Championship (FCI) | Rakousy, CZ | 5 | Philippe Heintz |
| IHT2 | Cup of Rakousy | Rakousy, CZ | 5 | Philippe Heintz |
| T3 | Qualifying trial | Čelina, CZ | 6 | Eric Barfoot |
| IHT2 | Open trial | Libhošť, CZ | 5 | M. Kosa |
| | | | | |
| --- | --- | --- | --- | --- |
| 2010 | Name of a trial | Location | Place | Judge |
| T1 | O dámský pantoflíček | Čelina, CZ | 2 | |
| T1 | Open trial | Huníkov, CZ | 8 | Heier (D) |
| IHT1 | Czech Championship (FCI) | Rakousy, CZ | 5 | M.Magnusson |