---
About us
Border collies are our common hobby, despite the fact that we got to them by separate ways.
My name is Martin and I have Max and Zoe. I first saw Border collies when my father bought them as helpers on the farm. A few months later I brought home a little furryball border collie and I named it Max. And so we started to learn what herding actually means and how it's done. From the beginning Max and I worked on the farm. Later we started to compete and now we only trial.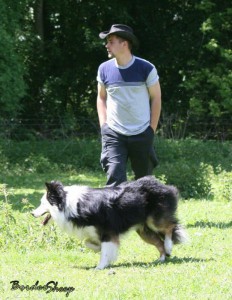 My name is Pavlína and I have only one border collie. Her name is Bess. I have always admired bordercollies and when I saw them work the sheep, I said to myself that I have to have one. So I drove to the next trial, which wasn´t far away from where I lived. I was lucky because I met an irish judge there, who I made friends with. Few months later I drove to UK and I brought Bess with me directly from Ireland. Bess and I trial, but we occasionally work on friends farms too.